On this podcast's fourth episode, we learn about mobile security from Amit Modi, the Chief Technology Officer (CTO) and CISO of Movius Interactive Corporation, a leading global provider of cloud-based secure mobile communications software. The company helps enterprises deliver better engagement for their clients., and connect with their customers in more convenient, cost-effective, and compliant ways.
Click on the image below to be taken to the podcast on YouTube, or listen to the episode on Spotify or Apple Podcasts.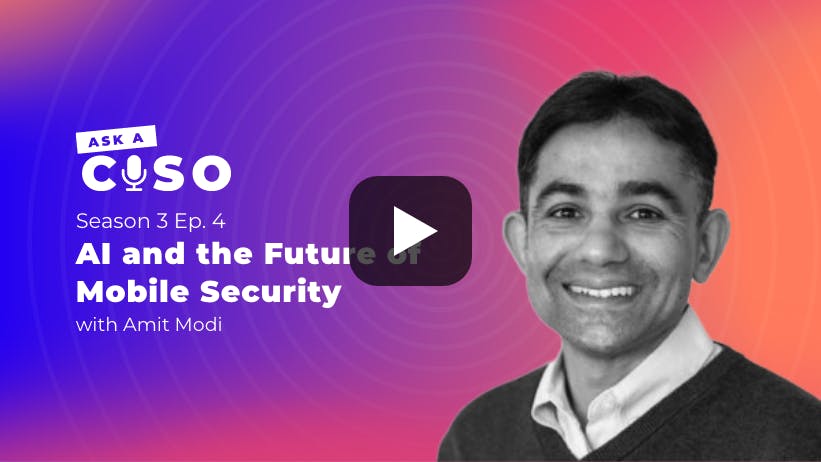 In the related blog below, we quickly examine mobile security, how it is implemented today, and what opportunities and threats AI presents.
What is Mobile Security?
Mobile security refers to the measures and techniques to protect mobile devices and their sensitive information. This includes protecting against cyber-attacks, such as malware and hacking attempts, and physical security, such as protecting against theft and loss.
How is Mobile Security Being Implemented Today?
Mobile security is implemented through Encryption, Two-Factor Authentication, and Mobile Device Management (MDM).
MDM allows organizations to manage and secure their mobile devices by controlling access to apps and data, enforcing security policies, and remotely wiping data in case of loss or theft.
Opportunities Presented by AI for Mobile Security
Behavioral Analysis: AI can analyze the user's behavior on their mobile device to identify unusual activity patterns. This can help to detect and prevent unauthorized access and data breaches. For example, if an AI algorithm detects someone attempting to access your device using an unusual method or from an unusual location, it can alert you or block the login attempt.
Voice and Facial Recognition: AI can be used to identify unique biometric characteristics, such as the sound of a person's voice or the pattern of their facial features, making it possible to use voice and facial biometrics as a means of authentication.
Malware Detection: AI can help detect and prevent malware infections by analyzing behavior patterns and identifying malicious code. For example, AI might be able to detect malware that sends SMS messages without the user's knowledge or tracks a user's location without permission.
Threats Presented by AI for Mobile Security
Social Engineering Attacks: AI-generated chatbots can mimic human conversation and fool users into revealing sensitive information. These attacks rely on human psychology to deceive users into providing information or taking action.
Deepfakes: AI can generate fake audio and video recordings that can be used to impersonate someone. These deepfake videos and audio recordings can be used to spread misinformation or even to extort individuals.
Adversarial Machine Learning: Adversarial machine learning is a technique that can be used to train AI to evade security measures. This technique can generate malicious software bypassing anti-virus software and other security measures.
In summary, mobile security is critical to protect the sensitive data we store on our mobile devices. AI presents many opportunities for enhancing mobile security, such as behavioral analysis, voice and facial recognition, and malware detection. However, AI can also present threats to mobile security, such as social engineering attacks, deepfakes, and adversarial machine learning. It is essential to be aware of both the opportunities and threats presented by AI and to implement appropriate measures to protect our mobile devices and sensitive data.