4 Cybersecurity Statistics You Should Be Aware of Today
1st Statistics:
There is over a 50% chance that small businesses will get hacked
There is a common misconception that cyber attackers only target large enterprises driven by attractive financial motives. According to a Verizon Report, 58% of victims of over 53,000 investigated cyber incidents are categorized as small businesses. One can explain these surprising figures by a simple observation: small companies are easy targets for attackers because they lack the necessary technology and skilled personnel to defend themselves compared to larger corporations.
2nd Statistics:
Data breaches suffered by small businesses can cause damages of up to US$120,000
If you are lucky enough that your company has never been a victim of a cyber attack, it is time for you to be aware that the average damage of a data breach has been calculated to be up to US$120,000, according to a Kaspersky Lab's report. Below is a list of common financial costs attributed to cyber attacks detailed in the report. You are highly encouraged to think about whether your company's current financial state is able to withstand such damages caused by a single cyber event.
Financial costs attributed to cyber attacks:
Lost Business
Damage to Credit Rating / Insurance Premiums
Extra PR (to repair brand damage)
Compensation
Penalties and Fines
Employing external professionals
Improving software & infrastructure
Training
Additional Internal Staff Wages
New staff
3rd Statistics:
Pushing towards digital transformation may lead to an increase in Cyber Risks
In today's world, companies are investing in digital transformation, leading to the procurement of new applications and services. Both small and large businesses are undergoing this change in order to increase operational productivity to stay competitive. However, the advent of third-party cloud, mobile and Internet-of-Things (IoTs) applications and services also increases the prevalence of cyber risks. According to a Kaspersky Lab's report, a breach in your IT infrastructure hosted by a third party could cost you US$179,000 per incident. While breaches in non-computing connected devices could cost around US$148,000 per incident.
4th Statistics:
Employee negligence is one of the largest contributors to data breaches
You might have heard of another misconception that cybersecurity is purely a technical problem. The uncomfortable truth, however, is that it is NOT. Cybersecurity is an organizational problem and is highly related to us humans. According to a survey done by Shred-it, out of 1,000 small business owners and C-suite executives that were interviewed: 47% of them said human error by an employee had caused a data breach in their companies and 85% of the interviewed C-suites identified employee negligence as their biggest information security risk.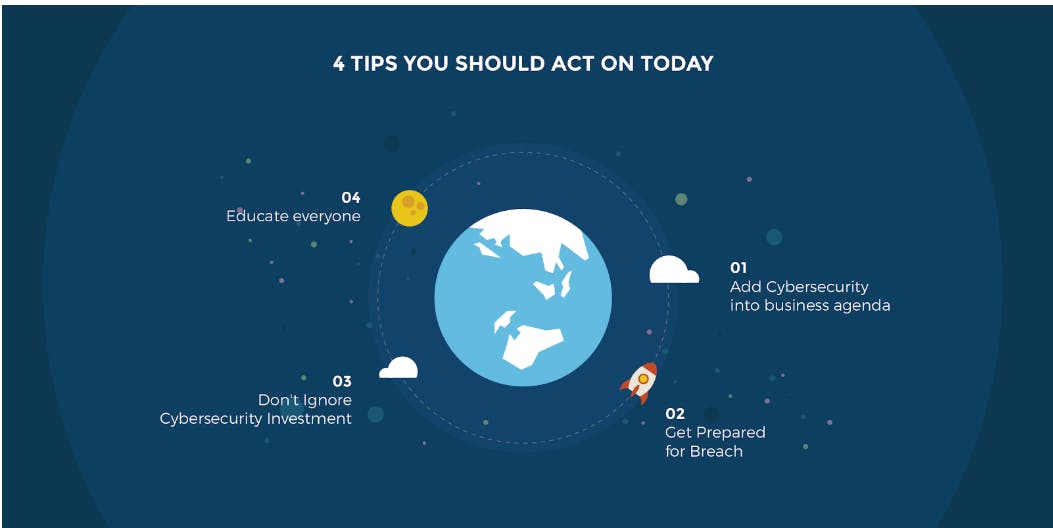 4 Tips You Can Act On Today
Tip #1:
Adding Cybersecurity into the agenda of your regular business plans
We fully understand that growth and efficiency are always at the top list of business agendas of any small business. However, today, try to include cybersecurity into your weekly or monthly business review and planning schedule as it is growing to become a matter too risky to ignore.
Tip #2:
Begin preparing an incident response plan
Don't take the risk that cyber attackers and hackers will not target your company. Cyber attacks can happen to anyone. It's a matter of "when" and not "if". Start engaging with professionals to build your incident response strategy and plan, or at least have an idea of what you might do in such a scenario.
Tip #3:
Begin setting a Cybersecurity budget whenever you invest in new technologies
Next time you buy a cloud or IoT application, do not just consider the boost in productivity. Assign a budget as much as you can to hire a cybersecurity consultant to assess your risk exposure if you deploy those tools, and adopt the necessary countermeasures before rolling these tools out.
Tip #4:
Start educating yourself and educate your staff
You don't have to be a cybersecurity expert. You could simply start reading some cybersecurity 101 articles and pay attention to the news everyday. Familiarize yourself with how to avoid the simple mistakes and share what you've learned to your employees.