Singapore, 23 June 2022 - Horangi, a leading cloud security solutions and services firm based in Singapore, announced today that its flagship cloud security platform Warden was recently named a Leader in the G2 Summer 2022 Grid Report for Cloud Security while bagging a total of 5 badges, and 14 mentions across cloud security, cloud data security, and cloud compliance categories. G2 is the world's largest tech marketplace aggregating authentic peer-to-peer reviews serving over 60 million people.
The products in the 'Leaders' quadrant are rated highly by G2 users and have substantial Market Presence scores, which saw Warden rank as the top Cloud Security Software provider across customer satisfaction metrics such as 'Ease of Doing Business With', the 'Quality of Support Offered', 'Value for Money', and 'Positive Product Direction'. Warden is also featured in the Enterprise Grid Report for Cloud Security Summer 2022, while also bagging the 'High Performer' badge in the same segment, along with Small-Business Grid Report for Cloud Security, and Grid Report for Cloud Compliance.
Warden is a human-centric cloud security platform that protects organizations in the public cloud using advanced threat detection and response capabilities. As of today, Warden supports the 5 largest cloud security providers of Amazon Web Services (AWS), Google Cloud Platform (GCP), Microsoft Azure, Alibaba Cloud, and Huawei Cloud. 
"Data is central to performance and decision-making at every modern organization, and companies need assurance that their sensitive data is protected around-the-clock. This is our single focus at Horangi. The G2 Summer 2022 Grid Reports show that Horangi Warden continues to rise to the challenge, meeting and exceeding these urgent needs. Looking ahead, we want to help our customers stay protected 24/7 and continue to evolve Warden to be a true CNAPP solution with CSPM, CIEM, and Advanced Threat Detection features.", said Paul Hadjy, CEO and Co-founder of Horangi. 
In a recent analysis conducted by Horangi, the Singapore-based company found out that across 79, 000 scans, Warden found a new misconfiguration on average every 47 seconds, including more than 5000 critical ones. This is an alarming statistic and hence the need for real-time protection against an array of cyberthreats that are rapidly evolving and surging in volume. Marching on to solidify its mission, Horangi recently launched a new Managed 24/7 Threat Detection and Response (Warden GUARD) unit in June 2022. The company is also working tirelessly to enhance the advanced security analytics in its flagship product Warden. 
"Warden has all the features we need so we don't have to buy different solutions and worry about integrating them into a seamless pane of glass for the security team. Moreover, it does all of the things we require for our cloud infrastructure really well: compliance automation, threat detection and remediation, and even IAM and UEBA," concluded Mr. Saran Chiwtanasuntor, Vice-President of Engineering at Thailand food supply chain platform Freshket.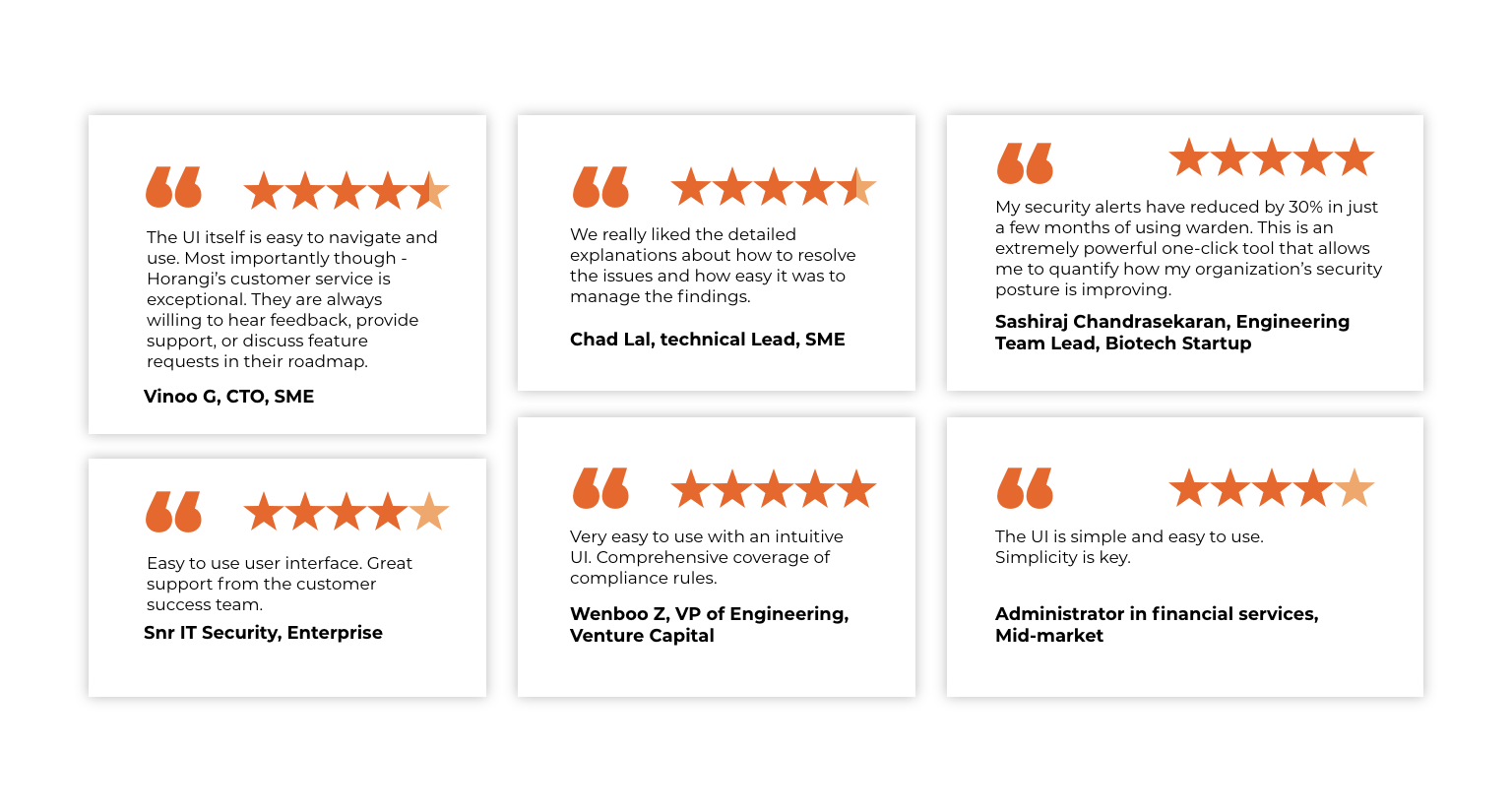 About Horangi
Horangi is a leading cybersecurity company founded by ex-Palantir Technologies engineers and is headquartered in Singapore. Horangi's best-in-class Warden cloud security platform protects organizations in the public cloud, complemented by an elite team of cybersecurity experts providing CREST-accredited offensive and strategic cybersecurity services to customers across the world. For more information, visit https://www.horangi.com/.