The "Personal Data Protection Bill (Act No. 27 or 2022)," a data protection law that regulates the collection, use, disclosure, and storage of personal data in Indonesia, was enacted in October 2022. The Act imposes various requirements and obligations that both public and private entities, including those outside of Indonesia, must comply with when handling the personal data of Indonesian individuals.
The law retains some specificity and adds unique features to the landscape, such as providing a clear definition of "personal data of a general nature" in contrast to "specific data," and making the intentional creation of false data a criminal offense. Similar to other international data protection laws, the Personal Data Protection (PDP) Law assigns responsibilities for the processing of personal data and upholds the rights of individuals. Its core components, which include definitions of covered data and entities, lawful grounds, processing obligations, accountability measures, and controller-processor relationships, share similarities with other global data protection laws, especially the EU's General Data Protection Regulation (GDPR). However, the PDP Law has distinctive features that are unique to Indonesia. 
To help organizations meet their compliance obligations, Warden has launched compliance mapping assistance to enable companies in complying to the requirements of the Personal Data Protection Act. The mapping feature helps organizations identify technical controls required by the Act and map them to the specific obligations set out in the law.
Warden has mapped key technical controls in the Act:
Article 29: Requires data controllers to ensure the accuracy, completeness, and consistency of personal data they process 
Article 31: Requires data controllers to keep records of all processing activities and demonstrate their responsibility for data processing
Article 36: Requires processors to maintain the confidentiality of personal data
Article 37: Mandates monitoring of all parties involved in the processing of personal data
Article 38: Requires data to be protected from unauthorized processing by controllers and processors
Warden's PDP compliance mapping is available in Bahasa Indonesia, making it easier for organizations to adhere to the compliance framework. By using Warden's compliance automation, organizations can reduce the risk of non-compliance, safeguard personal data, and protect the privacy rights of Indonesian individuals.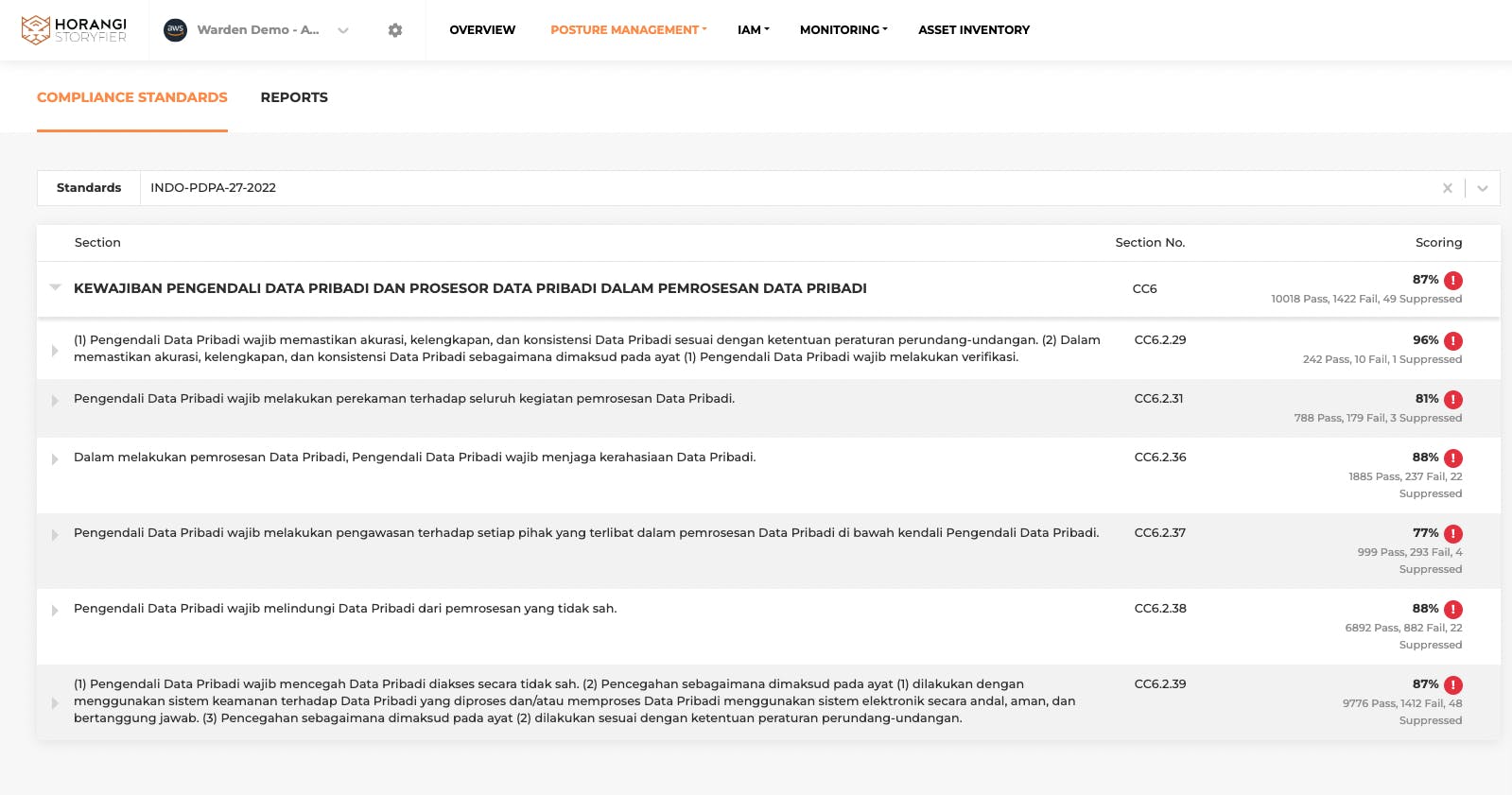 For more information on how to utilize this compliance automation feature, please visit our support portal.
Conclusion
As organizations evolve in their cloud journey, there is a greater need to look beyond native cloud security tools that provide holistic coverage across clouds. There are numerous compliance standards to follow and thus the automation of data gathering, processing, and formatting could be a time-saving process for you and your organization. With the addition of this new compliance standard, Warden aims to help you reduce the manual work so that you can focus on what matters most to your organization. To stay updated with the latest additions to Warden's features, you can visit our blog. 
Drop us a line here to schedule a customized 15-min demo to see how Warden can help with all your cloud security needs.