Granting and removing access to privileged accounts manually will result in collecting more and more access rights over time, leaving you in a vulnerable state with too much access. This calls for the need to have an automated process to manage the hygiene of access. Companies that do not have an automated process in place face many issues like - excessive permissions on accounts, or the expanding collection of access to privileged accounts over time by a user as a result of changing roles, jobs, departments, etc. Read more to know how you can get out of this rut to protect your crown jewels.

Privileged Access Flagging on Warden IAM
Privileged Access Flagging feature is now available on Warden IAM and this feature will allow users to gain instant granular visibility to privileged access - such as unused users, privileged users, and public resources. So users don't have to manually dig through multiple consoles or ask multiple team members to identify and eliminate the immediate security threats in their IAM. 
Why is it needed?
"Are there any currently unused accounts lying around in your organization? Are there any users currently not yet secured with MFA? Or simply haven't updated their passwords in a while? Is any of your data storing buckets or services made available to the public unintentionally?" If you ever wondered about any of these mentioned questions, yet struggle to resolve them immediately, you are not alone! Also, if you plan to adopt the least privilege policy, or already have done so, you can start the rightsizing practice immediately with these high-security risk items identified, making it crucial for organizations to implement an automated process to flag and eliminate privileged account access with Warden IAM.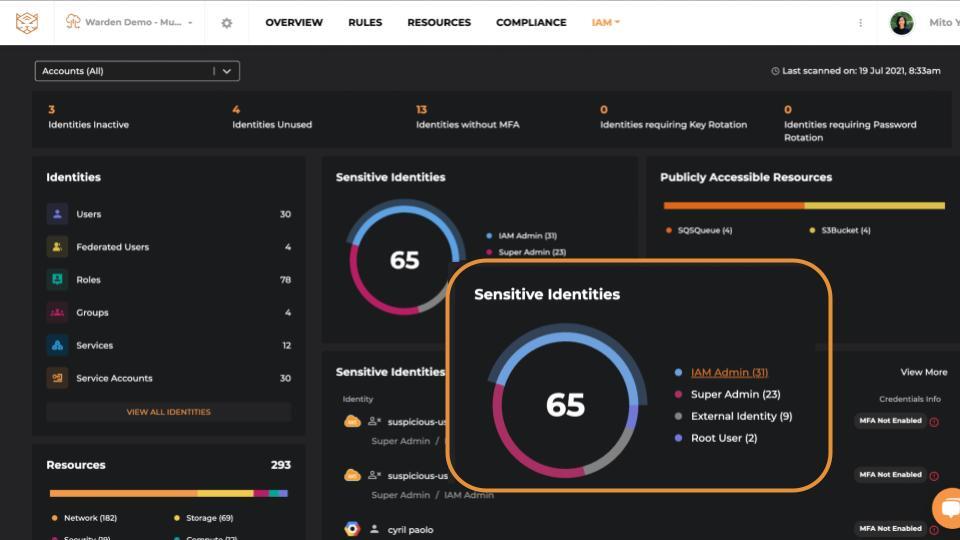 Warden IAM dashboard with sensitive identities highlighted
How it works
Entering the Warden IAM Dashboard, you will notice in the top area your high-security risk items that you can get started with right away. This can include the number of inactive users, unused users, or users with MFA not enabled in your organization, among other potential risks.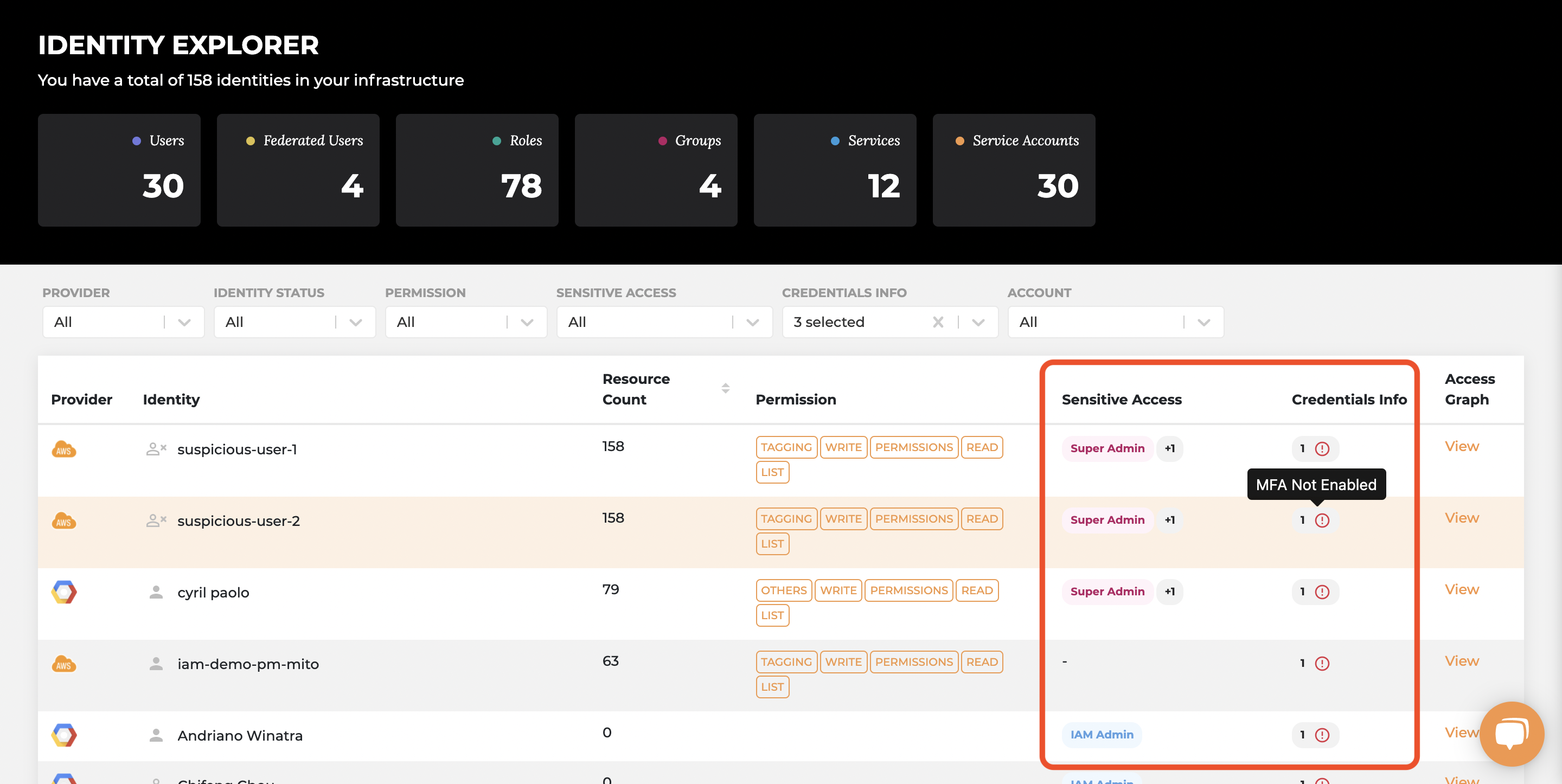 Warden IAM Privileged Access Management dashboard with identities explorer
In the Identity Explorer, with the additional "Sensitive Access" and "Credential Info" columns, you can tell if there are any privileged users with no MFA enabled or users who haven't updated their passwords in a while. This allows you to spot the security risks across multi-clouds at a single glance (as in the screenshot above).
For Google cloud accounts, we completed this credential information with additional context from your Google Workspace! You can also find the step-by-step instructions for the Google Workspace integration on our support guide.
Conclusion
While it sounds complex to enforce, this doesn't need to be true. With the right, simple-to-use tools, you can easily gain visibility and eliminate excessive privileged users to keep your infrastructure secure. To know more, fill this formfill this form and we will help you take Warden for a spin. 
P.S: Flagging inactive and unused identities currently only supports users, flagging inactive, and unused roles.