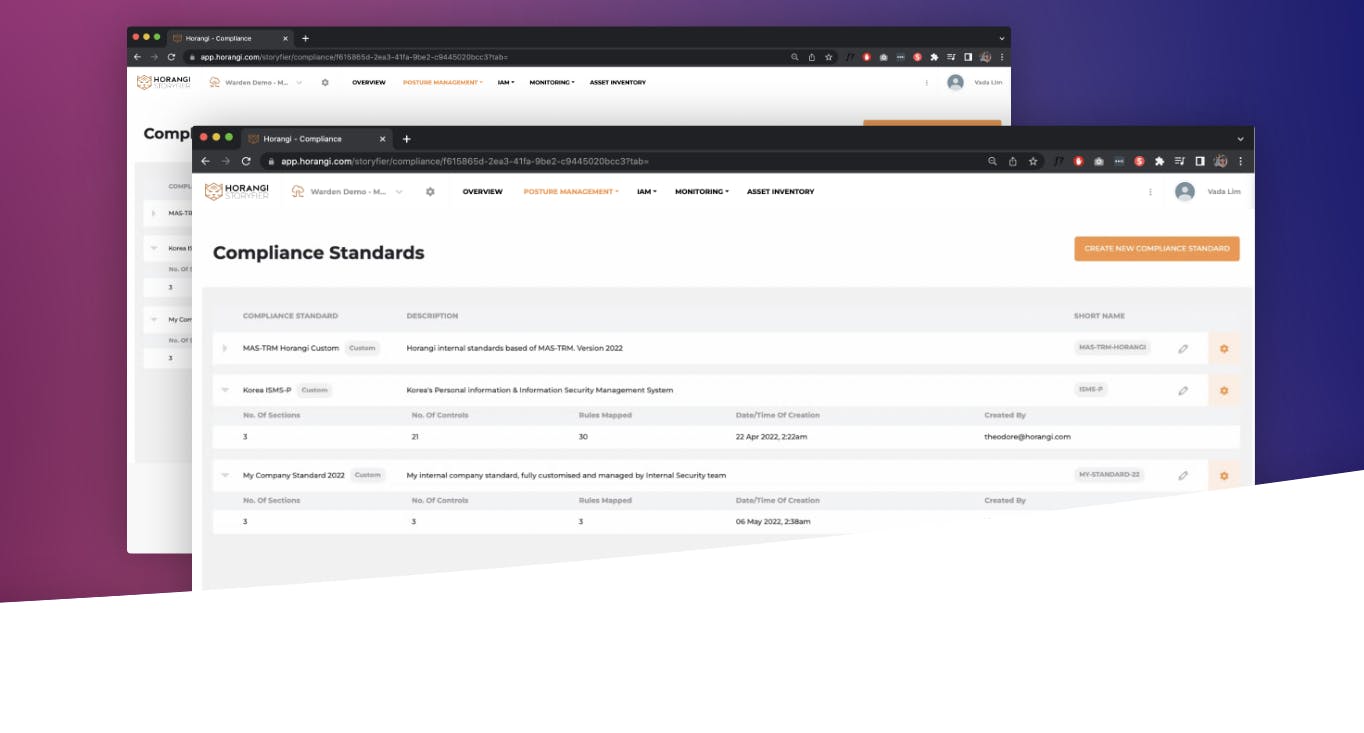 Custom Compliance Automation on Warden
Warden offers the fastest path to cloud security and compliance automation with the ability to define your own custom compliance for your multi-cloud infrastructure, enabling enterprises to dramatically accelerate cloud deployments and time-to-market. It wraps around your existing or new cloud resources to make you compliant with MAS-TRM, PCI DSS, APRA, GDPR, ISO 27001, SOC 2 and more within minutes of a no-code setup.
Compliance is never "one and done". Given the highly dynamic, distributed nature of cloud environments and the fact that the rate of cloud deployments is only accelerating, cloud compliance can be exceedingly complex. Here's how you can improve your cloud security and automate compliance reporting with Warden.
Define your own custom compliance
Sometimes generic industry standards are not enough, as you might need a modified version of these existing standards or even your own internal benchmarks. Warden gives you the flexibility to define your own Custom Compliance Standard feature to tailor-fit to your organizational compliance automation needs.
Continuous & automated compliance monitoring
Warden supports a huge breadth of compliance standards, including PCI DSS, APRA, GDPR, SOC 2, ISO 27001, MAS-TRM, with 300+ cloud security rules in place, with custom reporting from your dashboard.
Instant correction of compliance violations
Warden's automated playbook and one-click remediation shortens your time to compliance by tackling multiple compliance violations simultaneously.
Rich & interactive dashboard
Take advantage of out-of-the-box support for global and regional compliance standards on a rich interactive dashboard, enabling even the most resource-constrained security teams to easily manage and enforce compliance across multi-cloud environments.
Prioritize with one-click audit reporting
Generate audit-ready custom reports against any compliance standard in a single click. Understand the root cause with granular details and identify the specific violating resources and provide the necessary guidance to correct specific compliance issues.