Beta: Vulnerability Management
We are pleased to announce the first Beta release of Vulnerability Management.
Vulnerability Management gives you control of your findings, and also the ability to mark irrelevant findings. It aims to reduce noise so you can focus on what matters, and get the most accurate picture of your security posture.
This feature allows you to change the severity level of specific findings and update them with how they were addressed. You can even filter your findings based on its status and severity level to reduce noise.
To top it all off, you can now add notes and provide context to your findings when you make a change to the severity level. This keeps your entire team informed and allows you to track changes in your security posture more accurately.
IMPORTANT NOTE: As this is a beta release, you may encounter some bugs as you use the feature. If you find any bugs, or have suggestions on how to improve this feature, please let us know!
Warden CIS Benchmarks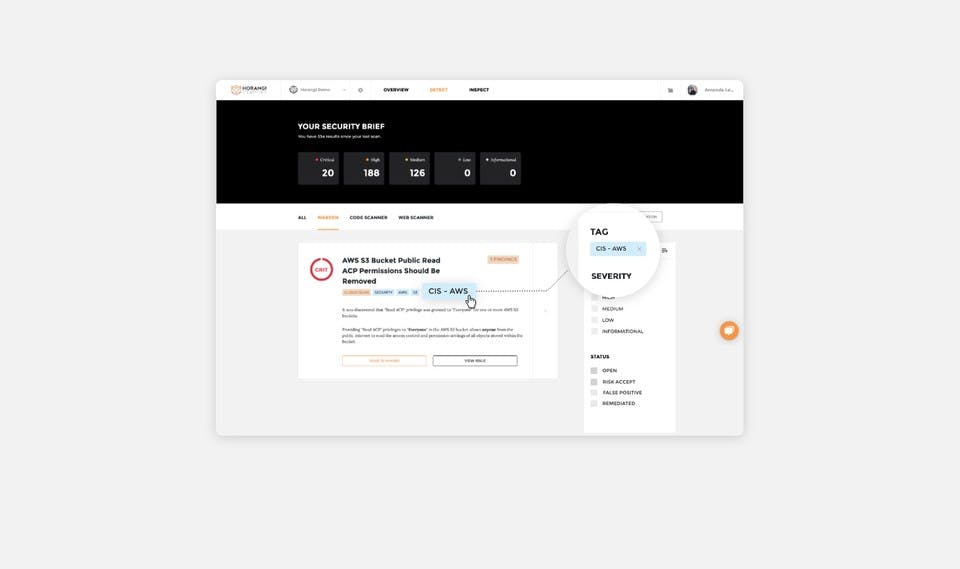 We also just rolled out the first wave of Center of Internet Security (CIS) benchmarked Warden findings. CIS Benchmarks are consensus-based guidelines defined by multiple experts that provide a baseline for assessing your security posture.
When Warden scans your AWS cloud configuration, it now highlights findings that pertain to the CIS benchmark so that you can prioritize patching your non-compliant security issues as necessary.
All CIS benchmark-related findings contain the CIS tag when you view them in Storyfier, as well as the specific benchmarks the findings pertain to.
Filtering by Tag
You can now filter your findings by its tags. Just click on one of the tags in a finding and it should show all that contain the same tag.
That rounds up what's new for this release. Stay tuned if you want to know more about future releases.
Have you tried Storyfier yet? Register for a trial here.